Features
All the benefits, plus the fringe.
Andover State Bank checking accounts come with many features that help you organize your finances and make your money work for you.
Don't be limited by cash or checks. Make purchases in person, online or over the phone with your debit card. Withdrawal cash up to $500 per day, and make purchases up to $3,000 per day.
Experience the freedom to manage your accounts from your computer or phone, virtually anywhere.
Make the switch to paperless statements and get them emailed to you directly.
Save yourself a trip to the bank. Make deposits from your mobile device by submitting photos of your check. It's that easy!
Pay bills online and never worry about your checks arriving in the mail on time. (Besides, writing checks can cramp your hand, not to mention your style.)
By having paychecks deposited directly into your account, you can save time and gas. That's one less trip to the bank.
No computer? No problem. You can hear about your current statements and transactions over the phone. Call 316.733.7099 or 866.733.7099 and follow the instructions.
If you accidentally spend more money than you have in your account, we transfer funds from another account so your balance stays positive.
On the go.
The way you like it.
Being on the go feels great when you're doing the things you love. Our mobile app saves you an errand to the bank when you need to deposit a check, transfer money or check your balance. You can do it all on the app!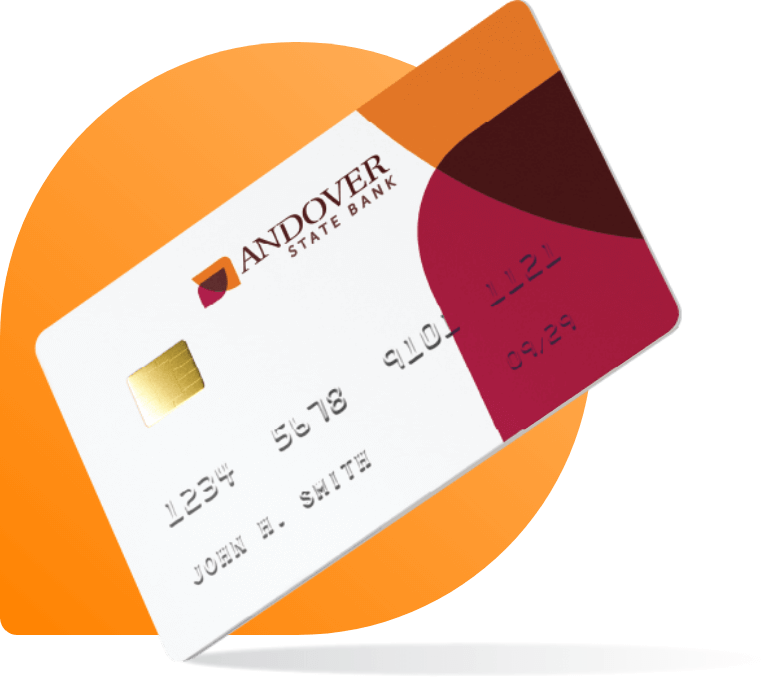 Debit Cards
Trust in transactions.
Your Andover State Bank debit card is the key to cashless purchases and ATM withdrawals. You can even use it to transfer funds and check your balance. Carry your card with confidence knowing that we're looking after your personal checking account.
Account Security
You're protected.
You should never have to feel like stuffing cash into a mattress or digging a moat to safeguard your liquid assets. We've created a financially secure environment to bring you peace of mind. Your money is safe with us. And it's always accessible to you.
Lost or Stolen Card?
We've got you.
Leave your card at the restaurant? Has your wallet gone missing? If you believe your ASB debit or credit card has been stolen or misplaced, call us immediately. We can help prevent unauthorized charges and provide you with a replacement card.